In February, KARST welcomed new members into the studio community.
Jean-Paul Bellamy-Wallace has exhibited in solo and group exhibitions in Paris, Rennes and Brest. He is a qualified teacher of plastic arts and scenography and has worked on set design for Opera de Paris and Opera Comique before moving to Devon in 2022.
Jean-Paul says "I am looking to get involved in an artistic community here, beyond my existing network in France, so it is a great opportunity to come and work in a studio at KARST."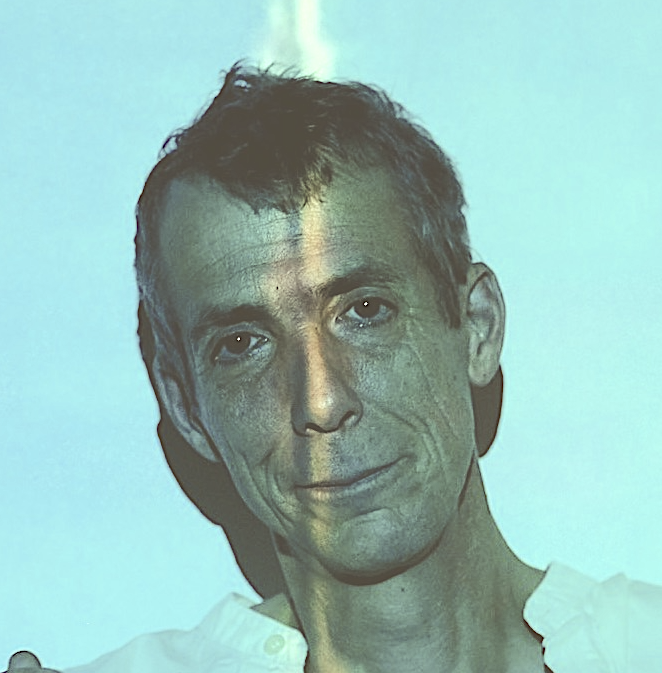 Anna Boland's current research is focused on dystopian fiction, notions of invisible environments and worlds, post pandemic existence and the air we breathe. Anna explores the unseen; the time and space in-between; making the invisible visible; and creating possibilities of what it may look like if we could see the invisible around us.
Anna says, "I'm looking forward to being part of KARST's growing artist community. Moving into one of the new studios will provide me with the much needed space to develop and expand my practice exploring immersive environments through sculpture and digital media."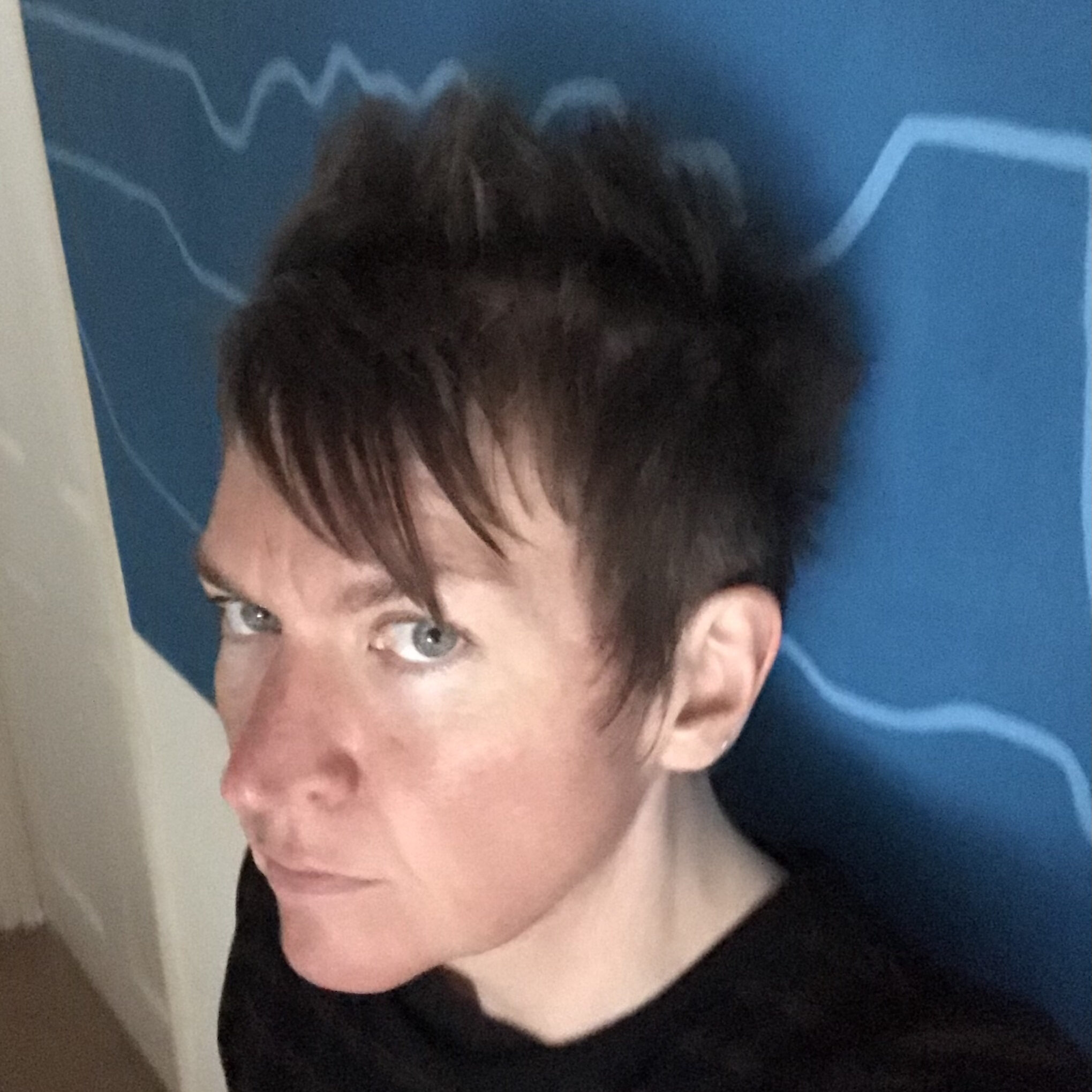 Jacqui Hallum makes paintings on unstructured fabrics and paper which are installed in complex and sensitive arrangements, often in multiple layers, with surfaces hitched back, folded or draped to reveal and conceal colour areas or fragments of transcribed images. Recent exhibitions include Walker Art Gallery, Liverpool, Kingsgate Project Space, London and Exeter Phoenix. In 2018 Jacqui won the John Moores Painting Prize and in 2020 a book documenting five years of exhibitions was published by Anomie / Kingsgate Project Space. Between 2003 and 2005 Jacqui served on the committee of GENERATORprojects, Dundee and in 2010 she co-founded the peripatetic exhibition project LIDO. Jacqui is currently making a site-based work for a ward at Torbay hospital with Hospital Rooms and planning a mobile garden for a London project space.
Jacqui says, "Following many years of working from a home studio, the chance to join a busy community offers the chance to meet artists and feel connected to the broader Plymouth art scene."
Tom Milnes is an artist, researcher and curator. He has exhibited internationally including at: Gyeonggi International Biennale – Korea, AND/OR – London, The Centre for Contemporary Art Laznia – Gdansk, and W139 – Amsterdam. Milnes' work was recently selected for CONTROL:21 | FORMAT International Photography Festival and Illuminate 2021. Milnes is a lecturer in Fine Art at Plymouth College of Art, and is the curator and founder of the online platform Digital Artist Residency.
Milnes has recently been awarded a Green Minds commission, where he will be working on a project utilising the augmented reality potential of Microsoft Hololens to envisage an imaginary vision of Plymouth based on native flora and fauna. The work will be visible via a tour/walk in locations within the city in the summer.
Tom says "I'm really excited to be part of the KARST community with so many fantastic artists and arts professionals. It's great to be part of the legacy of the one of the South-west's leading artist-led spaces."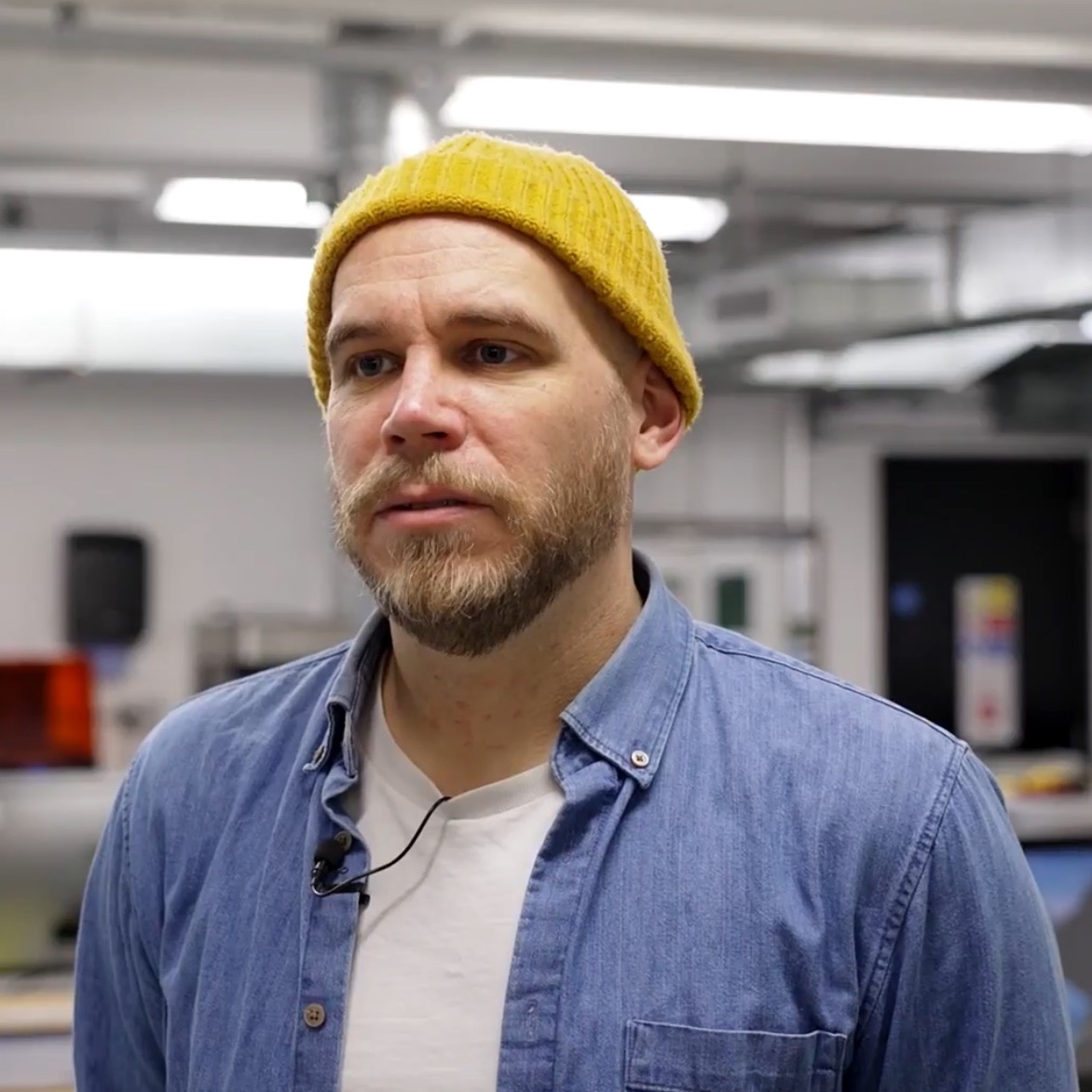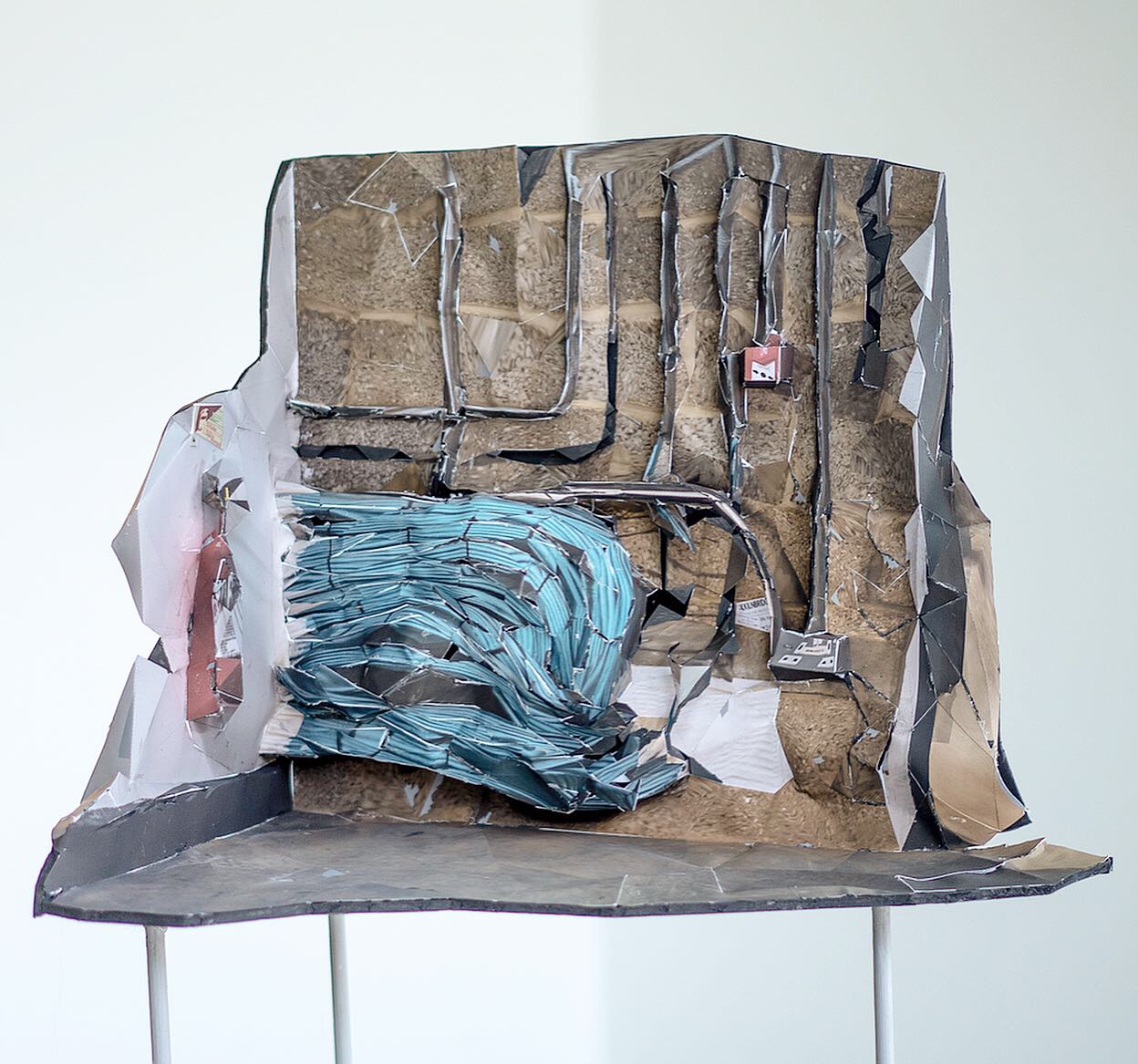 Examining what it means to be a body in an unstable world and how this might be responded to through alternate cosmologies, Laura Roberston uses sculptural installation and events as a means of embracing the incomprehensible — employing humour and the irrational to dismantle hierarchies and entertain thought beyond the seemingly impossible.
Papier-mache and ceramics are combined with fancy dress accessories — a sphinx sculpture wears a wig and fluffy wings. Bodies, memes, mythological icons and household objects are blended into prop like forms, characters and costumes; allowing for multiple people and objects to overlap as protagonists of the same story.
Laura is currently working on an install for Gallery 333 at Exeter Pheonix and a 3D video project to be shown at Market Hall in Plymouth later in 2022.
Laura says, "I'm excited to be a part of the energy and ambition of KARST's community — rocket fuel to take to the studio!"
Alexis Soul-Gray lives and works in Devon. She is currently studying for an MA Painting at Royal College of Art in London. Alexis has held lecturing positions in universities, worked as an independent curator and is a 2021 recipient of The Elizabeth Greenshields Foundation Grant for Painting and Drawing.
Through painting, collage, assemblage and printmaking Alexis explore ideas of nurture, dereliction and the mother archetype in relation to trauma. Speculative questioning about the memorial, nostalgia and commemoration brings together a conjecture of imagery taken from public archival materials.
She is currently working towards her first international solo shows and has a residency at Exeter Phoenix gallery throughout February.
Alexis says, "I'm excited to be part of the KARST community, I think this is going to be such a positive experience being part of this important cultural city again, re-connect with Plymouth friends and colleagues..and make some new connections!"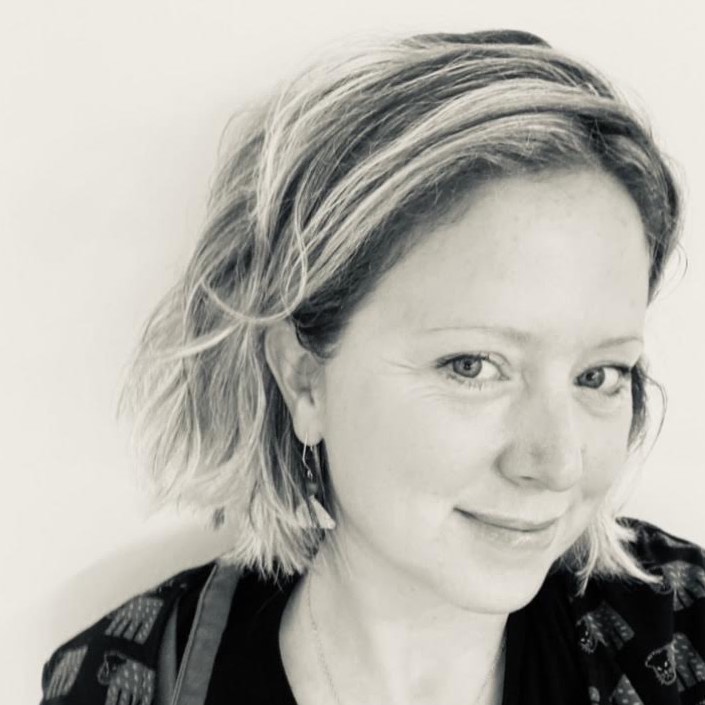 Liam Symes is a contemporary painter currently based in Plymouth.Whilst proceeding through his studies, Liam began developing his ideas through painting, consequently engaging more extensively with other painters and finding inspiration from contemporary painters of today. Following completion of his degree in Fine Art in 2013, Liam decided to continue his practice and explore themes which evoke concepts of memory, isolation and serenity. These are some of the ongoing themes present in his work today.
Liam says, "I am thrilled to be joining a community which encourages artistic experimentation, along with regular developmental discussions regarding my practice."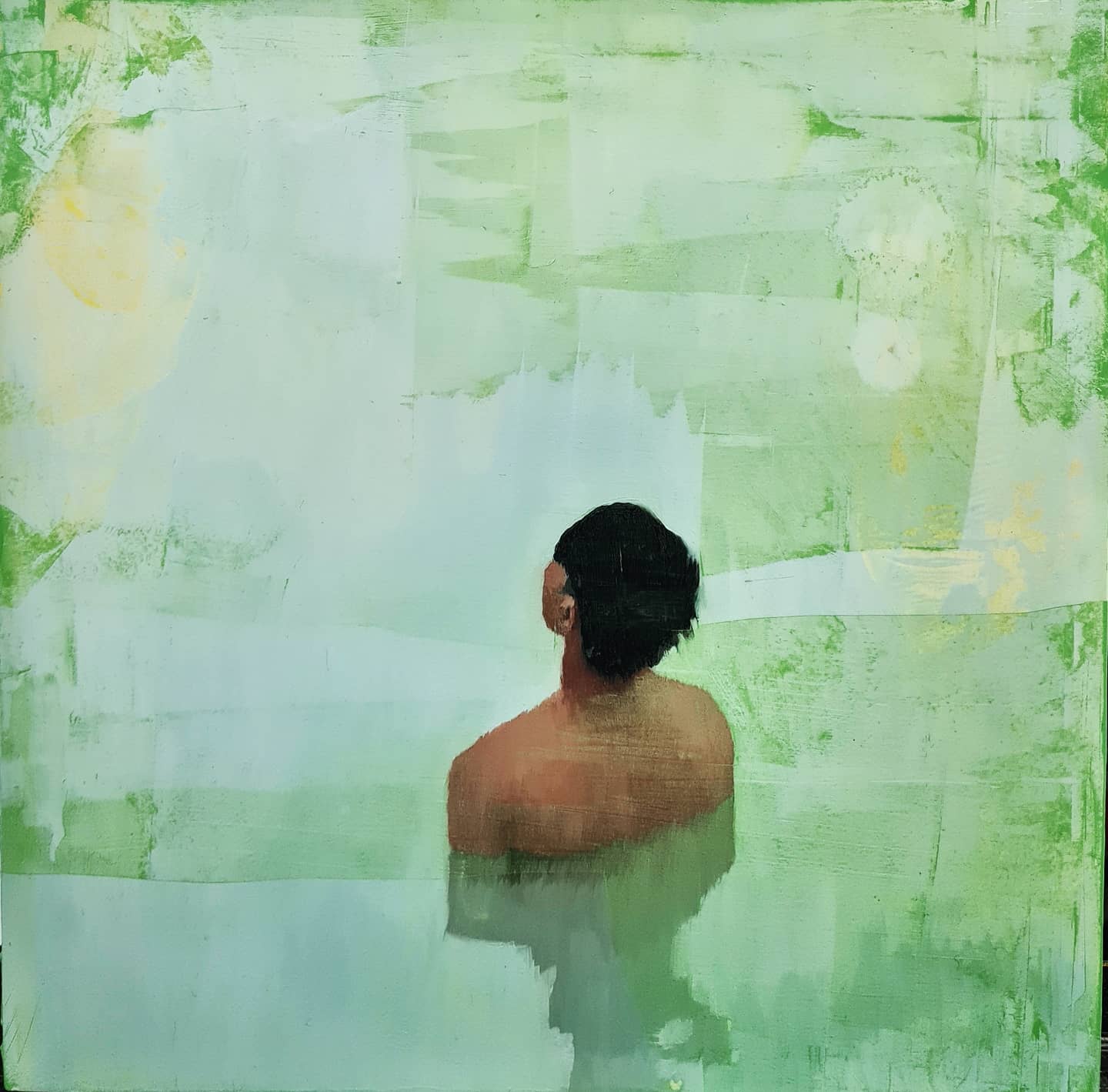 Cam Williamson is a a non-binary artist who uses paint and print to explore social spaces. Using their own working-class experiences, Cam aims to represent the social and spatial identity of poorly represented classes. Cam largely paints on found materials, often recreating the space and context in which it was found. Motivated by the social ownership of space, Cam's artwork rejects ideas of private ownership of public areas.
Cam says, "I am excited to join KARST's community, and to work alongside other creatives. I look forward to freely exchanging ideas with other artists."